News | Created 8 Mar 2017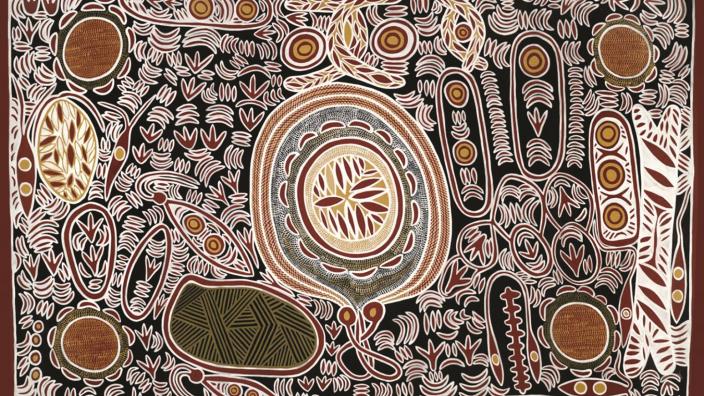 A new exhibition that brings to life one man's remarkable journey to share his people's culture with the world is going on display at the Museum of Geraldton from this weekend.
Yidumduma Bill Harney: Bush Professor is a travelling exhibition from Godinymayin Yijard Rivers Arts and Culture Centre and celebrates the life work of Yidumduma Bill Harney.
Museum of Geraldton Regional Manager Leigh O'Brien said Harney is a Wardaman Elder, whose country lies south-east of present-day Katherine in the Northern Territory.
"He is an amazing storyteller and artist, sharing the ways of the Wardaman people and the stories connected to the stunning ancient rock art on his land," Ms O'Brien said.
"Harney's knowledge has been described by anthropologists as encyclopedic in nature and his artwork is one way he shares that knowledge with the world."
Harney, who is now in his 80s, said he was taken to rock art sites when he was younger and remembers the images so well.
"We were painting ourselves up, fixing the feather decorations, singing the song. We were sleeping among them places, dreaming the stories, finding Spirituals travelling in the stars. That's how I paint, they're in my mind all the time, I see them!" Harney said.
Harney's work is widely exhibited, including in the National Gallery of Australia, Parliament House in Darwin, Bond University and the University of Sydney where a number of his major paintings are held.
Exhibition curator Margie West said Mr Harney's contemporary paintings are a fascinating perspective on topics as diverse as ancestral stories and astronomy.
"This is his first major retrospective exhibition providing audiences with a fascinating look into his world," Ms West said.
Yidumduma Bill Harney: Bush Professor will be on display at the Museum of Geraldton from 11 March until 21 May 2017.
http://museum.wa.gov.au/museums/museum-geraldton/yidumduma-bill-harney-bush-professor
Ends
Media contact
Sharna Craig
Media and Publicity Officer
Western Australian Museum
sharna.craig@museum.wa.gov.au