News | Created 26 Jul 2017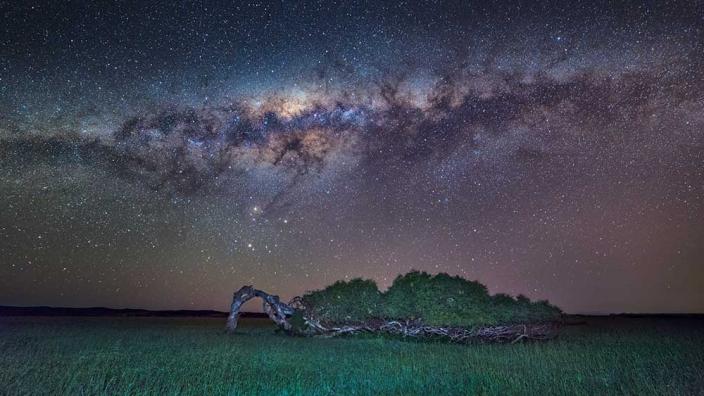 A stunningly beautiful astrophotography exhibition will be on display at the Museum of Geraldton from 28 July – 10 September 2017.
Since its inception in 2009, Astrofest has become one of the largest science events in Western Australia, and is the only astronomy event of its kind and scale in Australia. The festival is an Astronomy WA event and is coordinated by the International Centre for Radio Astronomy Research.
A highlight of the festival is the astrophotography exhibition, which is curated by Dr John Goldsmith of Celestial Visions.
The 2017 Astrofest Astrophotography Exhibition showcases the accomplishments of 23 talented Western Australian astro-imagers who have recorded stunning astronomical landscape images in locations throughout Western Australia and beyond.
"Images of the cosmos are achieved by these talented photographers using digital cameras, telescopes, tracking systems, wide angle camera lenses and sophisticated image processing," Dr Goldsmith said.
"Their dedicated work has resulted in superb images of iconic nocturnal landscapes, the Sun and Moon, planets, constellations, galaxies, star clusters and nebulae."
"The exhibition showcases the wonderful astrophotography talent we have in Western Australia. With access to some of the darkest skies on the planet, as well as superb remote landscapes, the exhibition showcases the wonder of the night sky, available to us all," Dr Goldsmith said.
Museum of Geraldton Regional Manager Leigh O'Brien said astronomy is a key science in Western Australia.
"The near perfect conditions for radio astronomy have seen Australia selected as a co-host of the Square Kilometre Array project, which will be based at the Murchison Radio-astronomy Observatory in the Mid West," Ms O'Brien said.
"We are excited to host the Astrofest exhibition again as part of our National Science Week celebrations."
Dr Goldsmith will be in Geraldton on 17 August as part of the 2017 Goodness Science, Sustainability and Innovation Festival, delivering an astrophotography talk in the exhibition space that morning, followed by a public lecture and live video astronomy session that evening.
Bookings for the astrophotography floor talk and evening lecture can be made via www.goodness.org.au.
Dr Goldsmith's visit to Geraldton is supported by the Museum of Geraldton and Scinapse via the Commonwealth Government's Inspiring Australia program. The State Government supports Astrofest through Lotterywest. Astrofest is a collaboration supported and led by Astronomy WA and the International Centre for Radio Astronomy Research in collaboration with the WA astronomy community. The exhibition awards are sponsored by Camera Electronic and Pendoley Environmental.
Ends
Media contact
Sharna Craig
Media and Publicity Officer
Western Australian Museum
sharna.craig@museum.wa.gov.au