News | Created 23 May 2017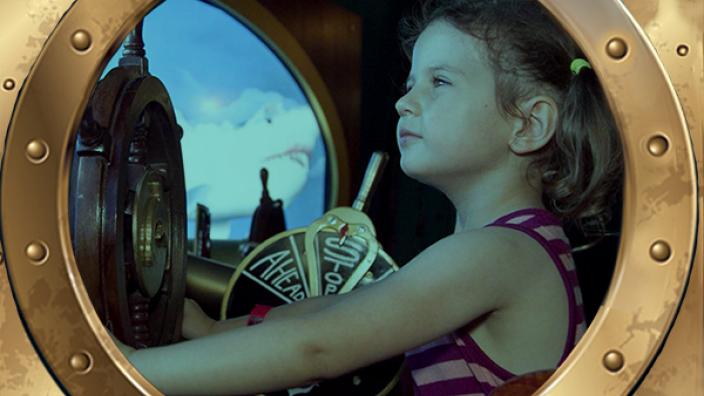 Children are invited to release their inner aquanaut and explore the mysteries of the deep in an exciting new adventure-land Voyage to the Deep: Underwater Adventures opening at the WA Maritime Museum on 27 May.

WA Museum CEO Alec Coles said the Voyage to the Deep exhibition is on tour from the Australian National Maritime Museum and is based on French author Jules Verne's 1870 classic 20,000 Leagues Under the Sea.

"The exhibition brings to life the deep-sea adventures of Captain Nemo, his fantastical Nautilus submarine and the mythical world he inhabited," Mr Coles said.

"At the centre of this fantasy world is a giant Nautilus replica where children can climb aboard and discover the inner workings of a deep-sea submersible.

"They will be able to take the controls at the helm, peer through the periscopes, crank the propeller, test out the bunks and explore Captain Nemo's Cabinet of Curiosities full of wonderful marine specimens. There's even a bubbly pipe organ to play and a galley full of strange foods to discover!"

Children can then slip on a dive suit and venture through the world below the waves, including the octopus' garden with its giant clam shell and a giant squid to slide down, and then wander through the maze of seaweed in the kelp forest. They can also hunt for treasure in the wreck of a Spanish galleon or explore the lost world of Atlantis.

Kevin Sumption, director of the Australian National Maritime Museum, said how pleased he is that the exhibition was appearing at the WA Maritime Museum.

"I am delighted that the Australian National Maritime Museum can tour this exciting exhibition Voyage to the Deep to Perth and share it with families there," Mr Sumption said.

"Pretend play helps children develop language skills, helps with problem solving and encourages creativity, and by spending time in this fantasy underwater world I'm sure they will be inspired to find out more about our wonderful oceans and the creatures that live in them."

Visitors will also learn facts about our oceans today from information on different ocean habitats and their sea creatures to the devastating impact of ghost nets (discarded or abandoned fishing nets) on marine wildlife.

The Australian National Maritime Museum worked with Ghost Nets Australia to create a large sculpture of a coral bombora or 'bommie' out of ghost nets and other marine debris which features as part of the sea-floor environment of Voyage to the Deep.

Voyage to the Deep will go on display at the WA Maritime Museum in Fremantle this Saturday until 20 August.

Entry fee to the exhibition includes museum entry. For further details visit Voyage to the Deep or call 1300 134 081.

Voyage to the Deep has been developed by the Australian National Maritime Museum.