News | Created 22 May 2017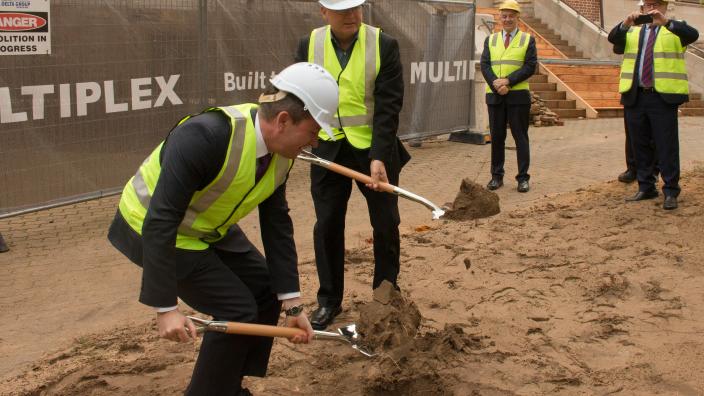 Premier Mark McGowan and Culture and the Arts Minister David Templeman recently turned the first sod at the site of the New Museum before the dramatic removal of the former foyer.
The ceremony marked a significant milestone for the New Museum Project ahead of major construction works, scheduled for late 2017.
The glass foyer, which is not heritage-listed, was added to the WA Museum in 1999 to link the Hackett Hall and Jubilee buildings. These two heritage buildings will now be linked by a contemporary elevated insertion on the first floor level to create one of four new accessible entrances into the heart of the New Museum.
The stunning heritage-listed buildings are being revitalised as part of the New Museum Project. The exteriors of all these buildings were restored in 2015 when the façades were cleaned, the brick and stone repointed and repaired, leadlight windows conserved and non-heritage render on the Old Gaol removed.
Inside, the heritage details of the original buildings will be interpreted and revealed in innovative ways. Visitors to the New Museum will be able to see stunning wrought iron detail, leadlight windows, heritage tiles and wooden staircases. Exceptional views of the heritage-listed buildings will be provided from a range of locations through the site.
The steel and concrete from the foyer was recycled. Up to 80% of materials from the site was reused or recycled.
The New Museum is on schedule to open in 2020.
Read the Minister and Premier's media statement here