News | Created 10 Nov 2017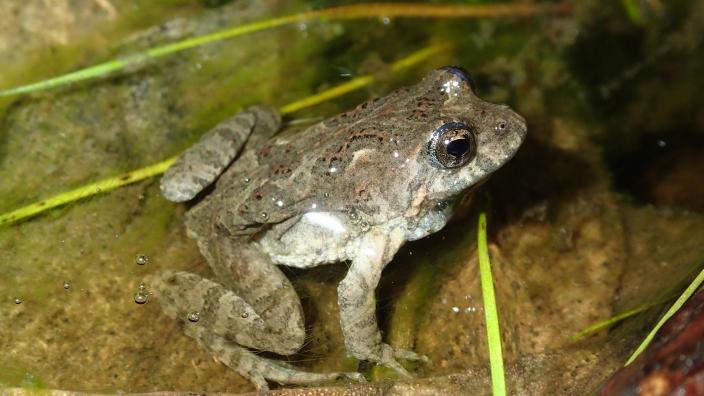 Kids, mums and dads, amateur scientists and community groups are being asked to pick up their mobile phones and head into their backyards and beyond to help save Australia's native frogs.
The Western Australian Museum is partnering with the Australian Museum and other museums around the country as part of FrogID – a major citizen science project which explores where frogs are at risk and how to conserve them and our waterways.
Frogs are one of the most threatened groups of animals on Earth.
The free FrogID app, developed in partnership with IBM, identifies frog species by the sounds they make – from croaks and chirps, to whistles and barks.
Up to one million Australians are expected to download the app and head to parks, creeks, dams or wetlands to listen for frog calls.
Recording and uploading these calls will map frog species across Australia and reveal where they are at risk from habitat loss, disease, climate change and urbanisation.
WA Museum Chief Executive Officer Alec Coles urged West Australians to download the FrogID app and become a citizen scientist.
"It's easy to get involved in Australia's first national frog count just by downloading the free app and heading outside to see what frogs you can find," he said.
The project will be led locally by WA Museum Curator of Vertebrates Paul Doughty.
Dr Doughty said frogs were a key indicator of the health of our waterways and wetlands and played an important role in several ecosystems.
"By using the FrogID app, anyone with a phone can help map where species of frogs are, and also what species appear to be 'missing' from specific areas.
"Because most people live in urban areas, the results will provide a good snapshot of how we are co-existing with our froggy neighbours, and also what can be done to encourage some species to co-exist with people in a shared, built environment.
"One of the benefits is just getting people back to nature, and understanding what frog friends are living in their suburb. This knowledge can translate into positive actions for conservation."
About FrogID
FrogID is the AM's flagship citizen science project, with support from the Australian Government's Citizen Science Grants and IBM Australia's Impact Grants program, and in collaboration with the Museum & Art Gallery of the Northern Territory, Museums Victoria, Queensland Museum, South Australian Museum, Tasmanian Museum and the Western Australian Museum.
Why frogs count
Australia has 240 known species of native frogs, many of which are under threat. Hundreds of frog species have already disappeared worldwide and many more are on the edge of extinction.
Sir David Attenborough has described amphibians as "the lifeblood of many environments". As one of the first animal species to feel the impact of environmental changes, declining frog populations are a "warning call" about the impacts of climate change and pollution on Australia's waterways, wildlife and ecosystems.
Frogs also play a critical role in the management of insect pests. Frog-skin secretions are also being explored in drugs to fight infection, release insulin, regulate the heart and cure diseases, such as cancer.
The FrogID app
Each frog species has a unique call, which is the most accurate way to identify different frog species. Recording and uploading frog calls, via the FrogID app, will identify different frog species, along with time and location data, using GPS technology. A team of frog experts will verify calls submitted by the public. This data will help map frog populations across Australia and identify areas and species under threat.
To find out more about the FrogID app go to www.frogid.net.au.
Media contact
Tracy Peacock
Media Officer
Western Australian Museum
tracy.peacock@museum.gov.au