News | Created 8 May 2017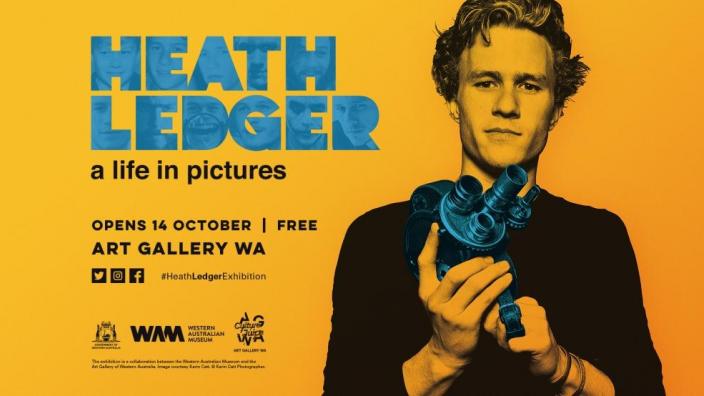 The extraordinary I Am Heath Ledger documentary premieres in Perth on 9 May at Luna Palace Cinema in Leederville, preluding the much anticipated exhibition about the life of the internationally renowned Perth-born star, Heath Ledger: A Life in Pictures.
The world premiere of the documentary was held at the Tribeca Film Festival in New York last month, drawing worldwide acclaim and attention.
Through Heath Ledger's family the I Am Heath Ledger documentary makers, Network Entertainment, engaged with the Western Australian Museum, viewing many of the artefacts the Museum is preparing for the Heath Ledger: A Life in Pictures exhibition, which opens to the public on 14 October.
The exhibition is presented by the Western Australian Museum and the Art Gallery of Western Australia, in conjunction with Heath Ledger's family. Museum CEO Alec Coles said this collaboration will bring an exceptional exhibition to Perth, providing unique insight into the life and work of the Perth-born actor.
"The generosity of the Ledger family has made this exhibition possible. The Museum is partnering with the Art Gallery of WA, where the exhibition will be hosted, to bring this dynamic exhibition to Perth and the world," Mr Coles said.
"Heath was more than a charismatic movie star who pushed boundaries and played iconic roles. This unique exhibition will show a supremely multi-talented individual who, from his teenage years in Western Australia to his final role as Tony in The Imaginarium of Doctor Parnassus (2009) was driven by a passion for creativity."
Director of the Art Gallery of WA Dr Stefano Carboni said that Heath worked with some of cinema's great directors, actors and crews to achieve unforgettable performances in a range of genres.
"The Art Gallery is pleased to partner with the WA Museum and the Ledger family, and to host what will be an extraordinary exhibition that celebrates the life of a local hero who had exceptional talent," Dr Carboni said.
Heath Ledger: A Life in Pictures will celebrate Ledger's screen career, featuring items such as the Joker suit from The Dark Knight (2008), as well as a variety of other cinema costumes including the one he wore as Ennis del Mar in Brokeback Mountain (2005).
"Many of Ledger's mementos will be on display for the first time, including an incredible array of photographs he took throughout his work and travel, which convey the actor's deep commitment to his profession, as well as offering behind-the-scenes insights into the processes of film industry," Dr Carboni said.
This eagerly awaited exhibition is part of the WA Museum's partnership program during the redevelopment of its Perth site, and forms part of the Art Gallery of WA's new series of contemporary culture, called Culture Juice. The exhibition will be free to the public at the Gallery from 14 October 2017 to 29 January 2018.
Discover a passionate film-maker, rediscover a screen legend… celebrate a local hero. For further information visit artgallery.wa.gov.au or museum.wa.gov.au
Media contact:
Flora Perrella
Media and Communications Coordinator
Western Australian Museum
(08) +61 6552 7804 / 0424 027 646 flora.perrella@museum.wa.gov.au #HeathLedgerExhibition