News | Created 23 May 2017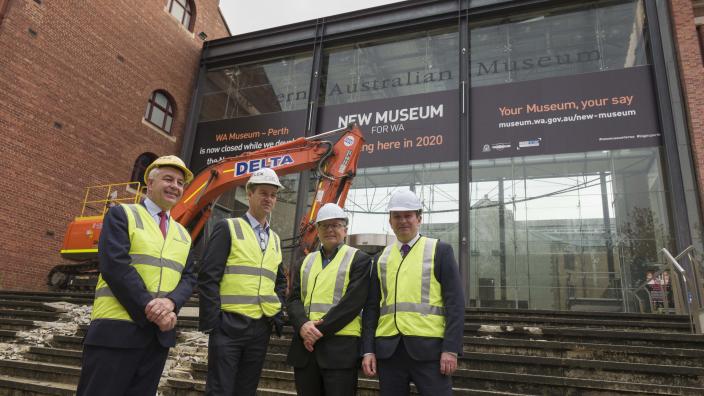 Yesterday, I was delighted to join Premier Mark McGowan, Culture and Arts Minister David Templeman, members of the WA Museum's Board of Trustees and Governors of its Foundation at the site of the New Museum for the turning of the first sod.
This ceremony is an important event in construction projects and marks the start of significant works at the site. For the New Museum project it signals the demolition of non-heritage elements ahead of major construction works, which will start later this year.
Premier McGowan and Minister Templeman enthusiastically confirmed this Government's commitment to the New Museum project and spoke about the economic, social and tourism-related benefits of having a world class museum within a dynamic and activated Cultural Centre.
After the official proceedings Multiplex's demolition contractors made short work of removing the foyer which was demolished to make way for one of the new entrances into the Museum. There will be four entry points that lead into the heart of the Museum, and there will not be a revolving door in sight!
Staff from around the Museum, and in particular our Visitor Services staff, will be delighted to see the spectacular demolition of the revolving door which was the cause of so much stress! Revolving doors, as far as I am concerned, represent the work of the devil: difficult to navigate, too tempting for children to play in, and a ready source of injury, I would like to see them banned. I can assure you there was an audible cheer when it was removed, of which mine was probably the loudest.
Unfortunately the glass itself could not be recycled; however, up to 80 per cent of other building materials, including the steel and concrete, will be recycled or reused.
Removal of the non-heritage elements of the buildings will continue over the next few weeks as Multiplex prepares for the site ahead of major works, but rest assured, very good care indeed will be taken of the heritage buildings.