News | Created 11 May 2017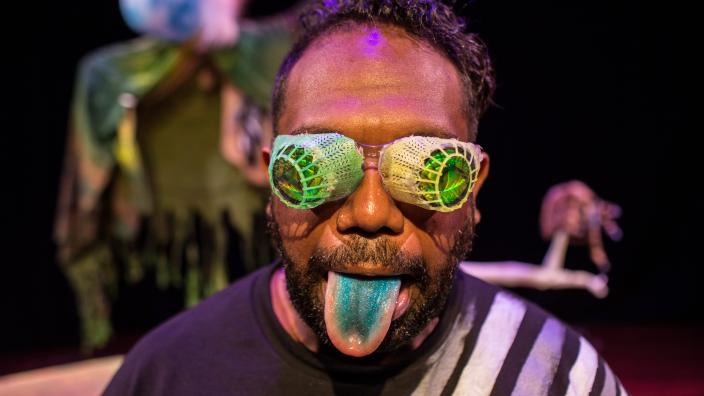 Western Australian Museum visitors will be taken on a wild adventure by contemporary Aboriginal theatre performances when Boodjar Kaatijin tours regional Western Australia.
The shows, written by Ian Wilkes and performed by Yirra Yaakin Theatre Company, incorporate storytelling, puppetry and glow in the dark elements to tell traditional legends about how the land was created.
Western Australian Museum CEO Alec Coles said the Museum has had a co-production partnership with Yirra Yaakin Theatre Company since 2012.
"We are delighted to be Yirra Yaakin Theatre Company's co-production partner for this enchanting piece of work. We are particularly pleased that it will be performed at the WA Museum's regional sites," Mr Coles said.
"This latest production, Boodjar Kaatijin, will tour Kalgoorlie, Albany and Geraldton with performances taking place at the Museum of the Goldfields and Museum of the Great Southern during National Reconciliation Week, and soon afterwards at the Museum of Geraldton."
Through a collection of four stories based on Nyoongar knowledge and storytelling, audiences will learn about The First Sunrise; The Creation of Kings Park and How the Kangaroo Got Its Colour; How the Echidna Got Its Spikes; and The Creation of Wave Rock and the Stars.
Yirra Yaakin Theatre Company's Artistic Director Kyle Morrison said the free shows will give Museum visitors a glimpse into the cultural significance of the places where we live.
"We invite people to join koorlbardi (magpie), weitj (emu), nyingarn (echidna) and their koordahs (friends) at the Museum of the Goldfields on 27 May, Museum of the Great Southern on 3 June, or at the Museum of Geraldton on 10 June," Mr Morrison said.
"Yirra Yaakin Theatre Company aims to provide opportunities for young people to actively participate and engage in performing arts activities that raise awareness and appreciation of Aboriginal culture."
Performance times and booking details can be found on the WA Museum's website.
Media contact
Sharna Craig
Media and Publicity Officer
Western Australian Museum
sharna.craig@museum.wa.gov.au