News | Created 23 May 2017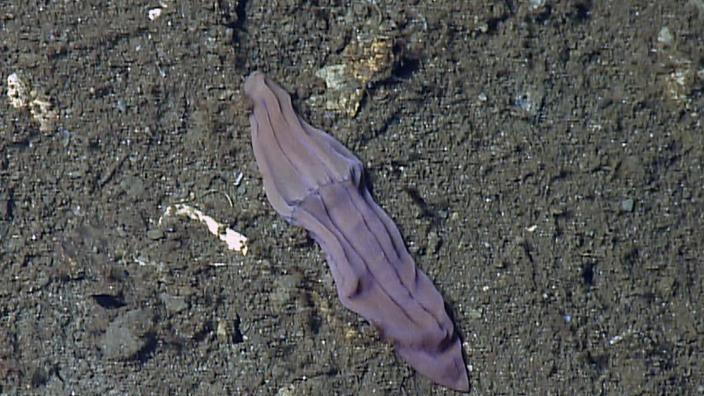 A marine worm that looked so much like a delicious fried pastry that it was named after one by a research scientist at the Western Australian Museum, has been named as one of the Top 10 New Species for 2017.
Xenoturbella churro has been included in the 10th annual Top 10 list compiled by the prestigious College of Environmental Science and Forestry at the State University of New York. X. churro was discovered in deep water off Mexico and named by scientist Jose Carvajal who, together with co-discoverer and senior research scientist Dr Nerida Wilson, now works for the Western Australian Museum exploring and describing Western Australia's vast biodiversity.
"We were having trouble finding a name that reflected this amazing discovery, so when a friend mentioned that it looked like a churro, I thought it would be a perfect fit," Mr Carvajal said.
"The fact that it was found in Mexican waters and named after a Mexican dessert was an added bonus."
Mr Carvajal and Dr Wilson were part of a team, initially from Scripps Institution of Oceanography and the Monterey Bay Aquarium Research Institute in California, that found what they believed were four new species of Xenoturbella off the Californian and Mexican coasts during fieldwork from 2007-2015. Each continued their research into the obscure marine creatures after independently moving to the Western Australian Museum and, in 2016, were part of the now international team that officially published the research confirming four new species discoveries. See: http://museum.wa.gov.au/about/latest-news/four-new-deep-sea-xenoturbella-species-discovered
"This was very significant because it was previously believed Xenoturbella was a phylum of animals thought to contain just one species, known only to live in Europe," Dr Wilson said.
"Very little was known about the animals other than they ate molluscs and for a time they were confused with molluscs because they retained mollusc DNA in their bodies.
"So this is more than science with a quirky name. This is a significant new species, the discovery of which took nearly 10 years to complete, and helped place a very enigmatic group of animals on the tree of life."
This is the second year running that the Western Australian Museum has had a species discovery in the Top 10. Last year the Ruby seadragon, Phyllopteryx dewysea, made the list. The Ruby seadragon was also discovered by Dr Wilson and colleagues from Scripps, using a specimen from the Western Australian Museum collection that had washed up on Cottesloe Beach in 1919. See: http://museum.wa.gov.au/research/collections/aquatic-zoology/fish-ichthyology-section/meet-ruby-wa-s-new-seadragon-discovery-s-been-100-years-making
These are just two of the dozens of new species discovered by Western Australian Museum scientists every year, adding to the store of knowledge and understanding of our unique environment.
"These discoveries clearly demonstrate the need for us to keep exploring our oceans and our environment, because there are still so many exciting discoveries to be made," Dr Wilson said. "The deep sea here remains very unexplored. Who knows what natural treasures are out there?"
The Top 10 New Species list is announced each year on 23 May to mark the birthday of Carolus Linnaeus, an 18th Century Swedish botanist who is considered to be the father of modern taxonomy.
Media contact
Flora Perrella
Media and Communications Coordinator
Western Australian Museum
(08) 6552 7804
flora.perrella@museum.wa.gov.au