The Bird Gallery
Article | Updated 9 months ago
The Western Australian Museum are getting ready to build a New Museum for Western Australia, and an initial step in this process is to decant the thousands of specimens and objects from the WA Museum – Perth into safe storage at the Collections and Research Centre (CRC) in Welshpool. This article explores the history of the Bird Gallery, with insights from Western Australian Museum Ornithology Curator, Ron Johnstone.
Ron Johnstone, Curator of Ornithology at the Western Australian Museum, helped to create the Bird Gallery in 1994. The Bird Gallery was designed in response to public demand and huge increase in the popularity of bird watching. Its purpose was to showcase the variety of birds of the Swan River Region from the Darling Escarpment to the coast and islands.
Ron Johnstone points out the Madagascan Elephant-bird egg as a specimen of particular conservation concern when it comes to packing the objects. This egg, from the species Aepyornis maximus, was found by primary school children at Cervantes in 1992. There are two such eggs in the collection, the other coming from Scott River. A paper published in the late 1990s suggested that these eggs came to West Australian shores from Madagascar via ocean currents. Both eggs are approximately 2000 years old.
Amongst the many species in the Bird Gallery, Ron's favourites include the endemic species, such as the Red-winged Fairy-wren, the black cockatoos (Baudin's, Carnaby's and the Forest Red-tailed Black Cockatoo) and the Western Rosella. Kirsten Tullis, Senior Preparator at the Western Australian Museum prepared these specimens, along with virtually all of the beautiful mounted specimens on display in the Bird Gallery. Kirsten will also be responsible for the decant of the Bird Galley.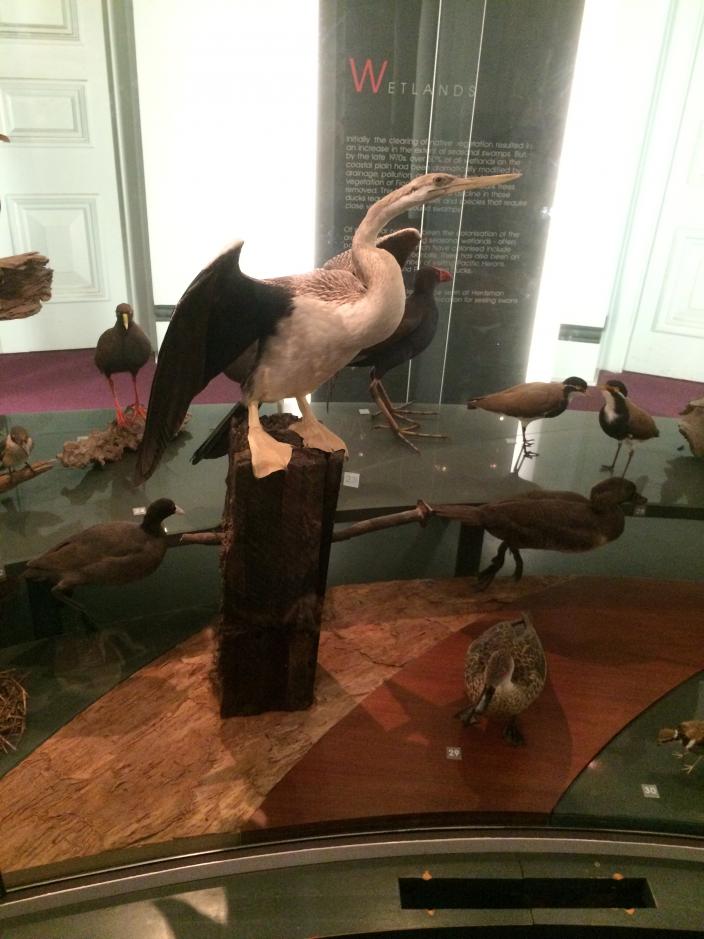 As mentioned above, Ron was heavily involved in bringing the Bird Gallery to life in 1994. His main task was to provide a plan for the gallery, and to put together a book so that students and visitors could obtain information on each of the regions represented in the gallery (Darling Scarp, Coastal Plain, Wetlands and Seas, Islands and Coast) and on all the birds displayed. The resulting book was essentially a field guide to the display and enabled visitors to access information on distribution, breeding, remarks and voice.
Another important contributor to the Bird Gallery was John Hutchinson. John was a pioneer of sound recording in Australia, and recorded the background bird calls for the gallery. John passed away in 2015, and was honoured by a celebration at the State Library for his life's work in preserving the songs of birdlife.
Bird watching is now a hugely popular pastime and there is massive public interest in birds and displays such as the Bird Gallery, which over the years has attracted many ornithologists, naturalists, students, and interested public to the Western Australian Museum.