Veteran and Stag Trees
Veteran and Stag Trees: A Valuable Resource - Going, Going, Gone!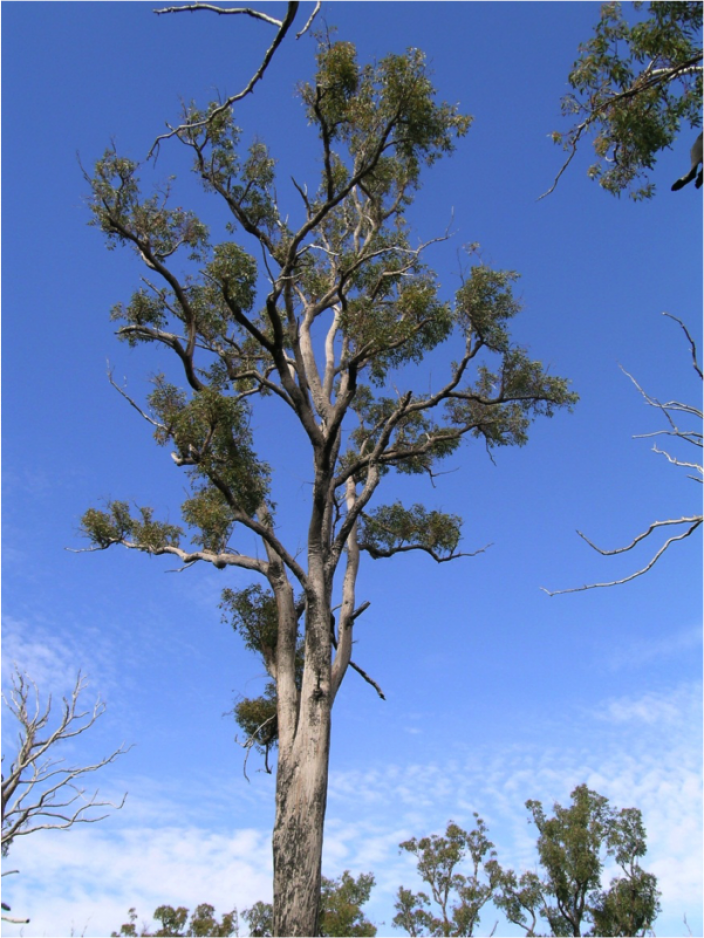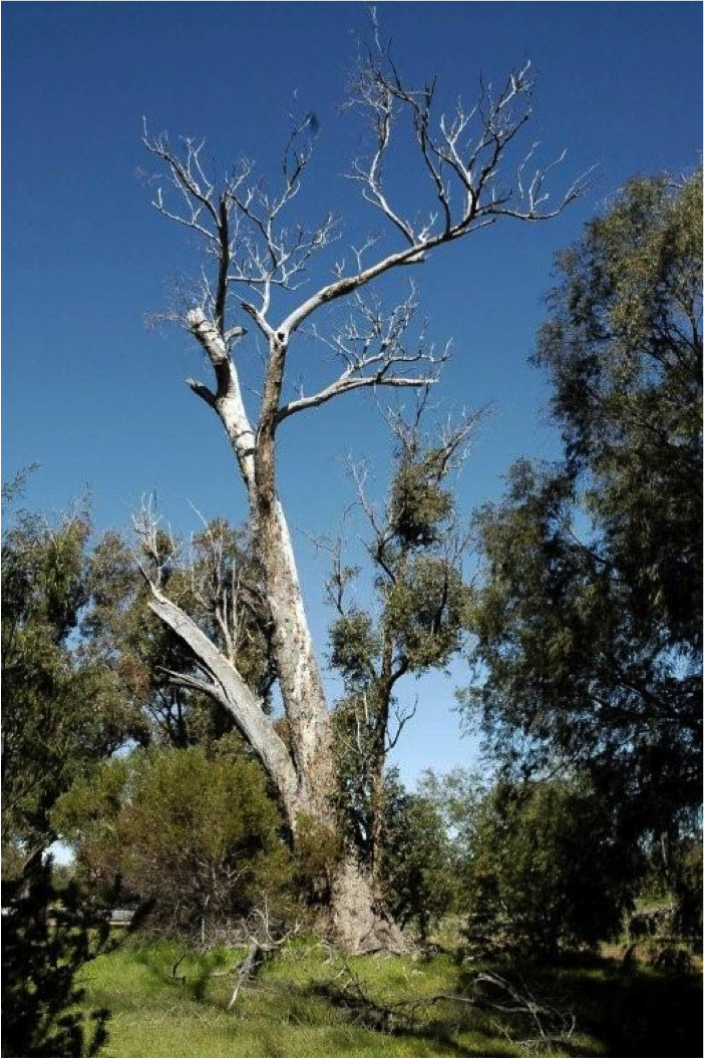 Since European settlement in Western Australia millions of hectares of forest and woodland has been cleared for agriculture, cities, towns, timber production and mining, and millions of ancient trees that provided places where birds, reptiles and mammals could sleep, rear young, shelter from the weather and evade predators have been destroyed.
In the south-west of this State only about 10% of the original primary vegetation remains and urban, agricultural, forest and woodland landscapes now contain far fewer trees with hollows. Hollow formation in Jarrah, Marri, Karri, Wandoo, Tuart and Salmon Gum is an incredibly slow process reliant on fungi and invertebrates such as termites and other insects to decompose and excavate the wood.
How are hollows formed?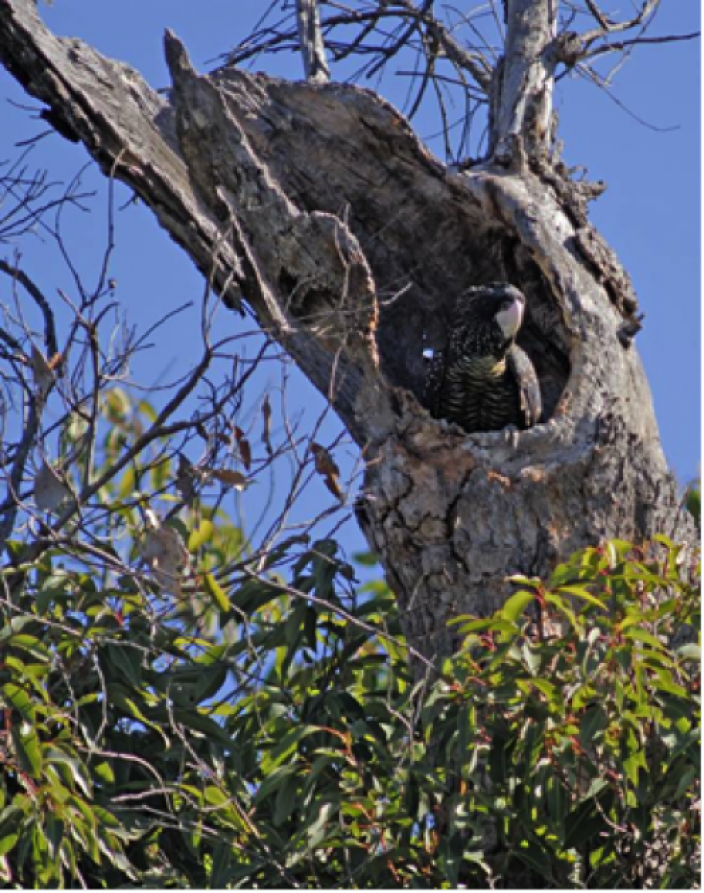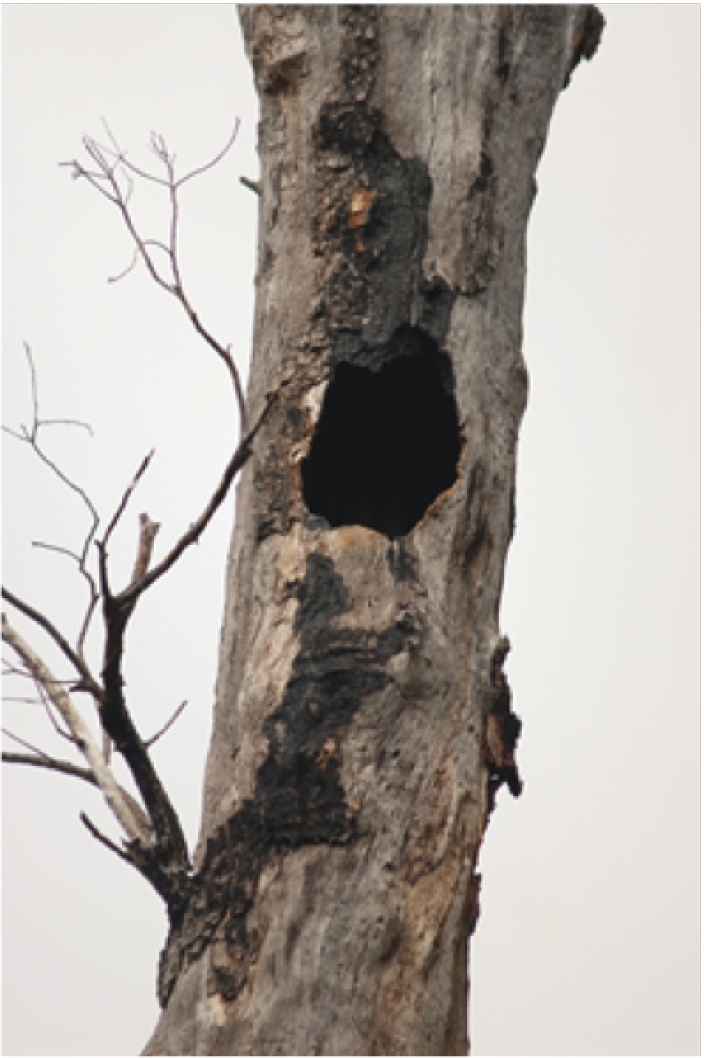 Hollows are formed when a branch or top of main trunk snaps off, or the tree is damaged by fire. This extremely slow process, combined with the fact that our hardwoods live up to 500 years, means that hollows can be quickly lost, but not easily replaced.
How old does a tree have to be to form a hollow big enough for a Black Cockatoo to nest in?
Recent studies have shown that hollows suitable for black cockatoos did not begin to appear in eucalypts until they are at least 209 years old. A number of nest trees used by Forest Red-tailed Black Cockatoos and Baudin's and Carnaby's Cockatoos have been estimated to be between 300–500 years of age. This clearly shows that the large old and decaying trees used as nesting sites by our black cockatoos in the south-west began growing well before Captain Stirling sailed up the Swan River.
Longevity of nest trees and hollows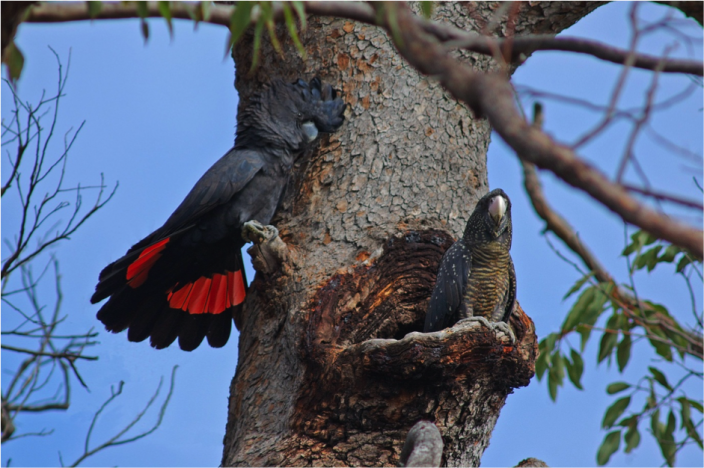 Many veteran and stag trees that contain cockatoo nest hollows are lost by being blown over in inclement weather, burnt in wildfires or controlled burns or bulldozed in fire clean-up operations. These trees are particularly susceptible as they are an outer living or dead shell around a rotten heartwood. Apart from this dwindling supply of hollows in some landscapes, hollow users are also in competition with a number of pest species including Galahs and Rainbow Lorikeets and feral swarms of the introduced European honey bee that is rapidly infesting hollows throughout the south-west region.
What about installing more artificial nest boxes?
Although some artificial nest boxes are being used successfully for breeding Glossy Black Cockatoos on Kangaroo Island and for Carnaby's Cockatoos in the Wheatbelt of Western Australia they can also attract introduced species (such as feral European honey bees) and are relatively expensive to erect and monitor. Recent research by the Western Australian Museum into the type, size, shape and placement of artificial nest hollows has led to a much better understanding of materials and designs that are most successful for black cockatoos and what types are best to discourage introduced feral and pest species.
The loss of hollow-bearing trees throughout Western Australia is one of the most important factors to overcome in fauna conservation and these trees are crucial for the long-term survival of much of our wildlife.
Cockatoo Care is supportive of habitat enhancement through the creation of native corridors linking remnants, revegetation of degraded areas and the protection of remnant bushland with large trees. Apart from veteran and stag trees with suitable hollows, conservation of foraging habitat, roosting trees as well as drinking sites are also crucial to these cockatoos.