Perth Science Festival 2017
Perth Convention and Exhibition Centre
Sat 12 Aug 2017 – Sun 13 Aug 2017
10:00am – 4:00pm
Offsite
---
Celebrate Perth Science Festival at the Perth Cultural Centre Saturday 12 and Sunday 13 August.
Meet with Western Australian Museum curators and scientists at the Perth Convention and Exhibition Centre (Pavillion 6) and explore all things science!
Saturday 12 August
Aquatic Zoology 10am - 1pm
Discover fishy, slimy and spiky undersea wonders!
Terrestrial Zoology 1pm - 4pm
Get up close and personal with some weird and wonderful natural specimens!
Sunday 13 August
Earth and Planetary Sciences 10am - 1pm
How old is this tooth, and what did it belong to? Meet the Earth and Planetary Sciences team to solve this scientific mystery!
New Museum Project 1pm - 4pm
What will Western Australia's future look like? Meet with the New Museum Project team to have your say!
Daily Activities
Peacock Spider Dancing 10.30am - 3.30pm
Can you dance like a Peacock Spider? Meet with the Museum team to learn some moves (costumes provided!).
Olivia the Octopus 11am - 3pm
Our special guest will be roving the festival daily looking for some great photo opportunities!
---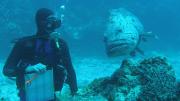 Caption: Dr Glenn Moore, Curator of Fishes conducting fish surveys at the Rowley Shoals with a very inquisitive Potato Cod.
Image Copyright WA Museum
Getting Here
Address
See offsite events for address details
Phone
1300 134 081