School holidays at the WA Shipwrecks Museum
Sat 23 Sep 2017 – Sun 8 Oct 2017
10:00am – 2:00pm
WA Shipwrecks Museum
---
Shiver Me Timbers!
Dates: 23 September – 8 October
General Activities: 10am – 2pm
Pirate Parade: 11am daily
Storytelling: 10.30am daily
Cost: Free – $2
Age: 4+
Bookings: Only required only for groups of 10+. Call 1300 134 081
Shiver me timbers! Get on board and join in our seafaring adventures.
Track down the pesky and adventurous sailor rats in the Riddled with Rats trail before they nibble all of our ship's biscuits! With the sharp eyes of a Rat Detective, you'll have to search high and low to find these hide-and-seek experts.
Join in the Pirate Parade by dressing up as your favourite swashbuckling sailor or marvellous mermaid and take part in our parade.
Listen to salty seafaring tales of adventure in our Pirate Storytelling and you may be taken to far-away lands.
Then have some paper-craft fun by decorating Mini Pirate Kite or a 3D Ratty Companion.
---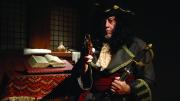 Caption: Shiver Me Timbers!
Image copyright Western Australian Museum
Getting Here
Address
Cliff Street,
Fremantle,
Western Australia,
6160,
Australia
Phone
1300 134 081
By Car
Paid parking is available in the City of Fremantle car park just outside the WA Shipwrecks Museum. Additional paid parking is available in the Wilsons car park at the WA Maritime Museum, Victoria Quay which is a short walk from the WA Shipwrecks Museum.