Meet Ruby – WA's new seadragon discovery that's been 100 years in the making
Article | Updated 10 months ago
Researchers from the WA Museum and Scripps Institution of Oceanography in the United States have announced the discovery of a new species of seadragon found off the West Australian coast.
Known as the Ruby seadragon for its unusual bright red colouring, Phyllopteryx dewysea is only the third species of seadragon ever recorded in the world.
The species was identified and described by the WA Museum's Dr Nerida Wilson and her colleagues, using DNA from a specimen trawled off Esperance in 2007 and linking it to other specimens with morphology, including one that washed up on Cottesloe beach in 1919. The Cottesloe specimen has resided in the WA Museum's collection for nearly 100 years and was critical in providing information necessary to prove the discovery of a new species.
This is an amazing discovery in our own West Australian waters and is a clear demonstration of the value of Museum collections over time, to inform current and future scientific research

Dr Wilson said.
Two additional specimens also collected off Perth were found in CSIRO collections and, along with the 2007 holotype and the 1919 paratype, provided the data needed to describe the new species. The other two known species are Leafy seadragon (Phycodurus eques) and the Common seadragon (Phyllopteryx taeniolatus), both of which are found along Australia's southern coast.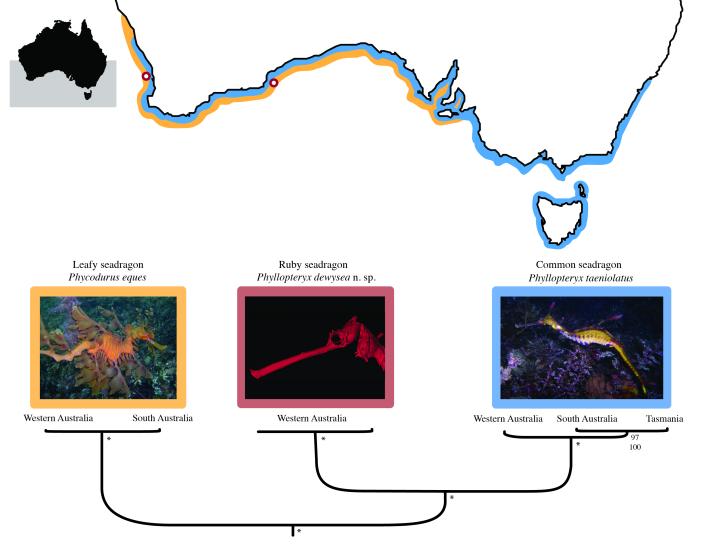 The 2007 Ruby seadragon holotype was collected at the Recherche Archipelago off WA's south coast as part of a collaborative research project (Marine Futures) between the WA Museum, The University of Western Australia, the Department of Fisheries and other agencies
Exploring, understanding and protecting our biodiversity is vital for the future of our planet, and this discovery provides another spectacular West Australian example of the wonders still to be discovered in our oceans

Dr Wilson said.
You can read the full scientific article on Royal Society Publishing