H T Denny (ex Reg L Sanderson) banana surfboat
Collection Highlights | Updated 4 years ago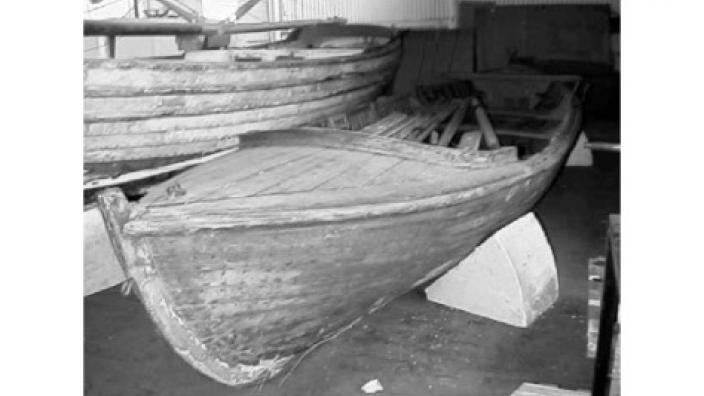 This surfboat was built for the City Beach Surf Lifesaving Club in 1948. The carvel (planks are built on a wooden frame and butt up to one another) built "banana" surfboat replaced the clinker (overlapping planks) surfboats of similar shape in the 1930s.
The banana surfboats were subsequently replaced in the early 1960s by the cross ply "tuck stern" surfboat. Tuck stern surfboats are now made of fibreglass.
This particular banana surfboat was named Reg L. Sanderson in honour of the man who was for many years the captain and president of City Beach Surf Lifesaving Club.
The Club used the boat for eight years before it went on a circuit of most of the Surf Lifesaving clubs in W.A., spending a season at each club.
In 1961, after the completion of the circuit of the Lifesaving clubs, the boat was returned to Perth in a state of disrepair and donated to the Tuart Hill Scout Group in 1961.
Under the guidance of H.T. Denny, the Tuart Hill Scout Group repaired and fibreglass the hull. In recognition of Denny's dedication to the Scouts, the surfboat was renamed in his honour.
The boat was used for weekend camping trips along the river, trips to a property called Fairlawn, fishing trips, pleasure rowing, and other activities.
"Sanderson had served as president for 13 consecutive seasons, enduring the trials of the war period and the difficult transition years immediately afterward. He had given City of Perth stability and direction, maintaining the club's excellent standards of efficiency and preserving goodwill and high spirits. At the beginning of the fifties, it might have been honestly observed that if City of Perth had not enjoyed the benefit of Sanderson's guiding hand, it would not have been the same club. As Roy Thompson commented, 'if ever there has to be a "Mr City Beach", it would have to be Reg "Sandy" Sanderson'. Sanderson's service would serve as an example to those who led the club through the next decade." (Spillman: Custodians and Champions).

Maritime history boats and watercraft