Ti-Tu steam pleasure launch
Collection Highlights | Updated 3 months ago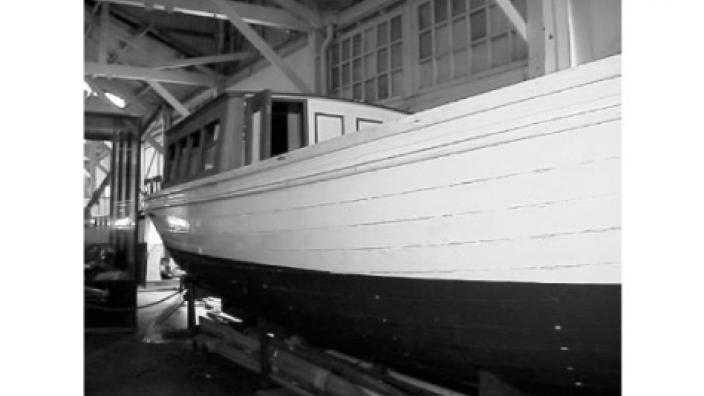 Septimus Burt, Western Australia's first Attorney-General, contracted Fremantle boatbuilding firm A.E. Brown to build the Ti-Tu in 1901.
The vessel's design was based upon the Simpson and Strickland designed Cygnet in 1890 for C.Y. O'Connor. O'Connor came to Western Australia to design and supervise the building of the Fremantle Harbour and later the Goldfields water supply scheme. He used the Cygnet for his personal use until his death in 1902, Cygnet was then bought from O'Connor's estate by the Police Department for river patrol duties.
Ti-Tu was used by the Burt family as a pleasure launch and for picking up dignitaries and other people from sailing and steam ships docked at Fremantle Harbour. Upon Septimus's death in 1917 ownership of Ti-Tu passed to his surviving brothers Reginald and George Burt. The vessel remained in the Burt family until 1964 when George Burt sold it to the Garden Island Ferry Service.
Ti-Tu is representative of a type of steam launch which is rare in Australia. It is the oldest luxury pleasure launch in Australia and survived long enough to be one of the oldest craft afloat on the Swan River. Ti-Tu's history is also associated with people who have been significant characters in the development of Western Australia, and has become an integral part of the river history of Western Australia.
Ti-Tu was subsequently sold in 1963 to Frank Marchant who sold it to the Western Australian Museum in 1974 for a reduced price of $1,200. The Burt Family made a donation to the Western Australian Museum for this amount so that the vessel could be purchased from Marchant. Ti-Tu was towed Victoria Quay where it was lifted from the water by the Fremantle Port Authority cranes and transported to the Fremantle Museum grounds on a low-loader in August 1974.
Maritime history boats and watercraft