Youndegin iron meteorite (main mass 2628 kg)
Collection Highlights | Updated 4 years ago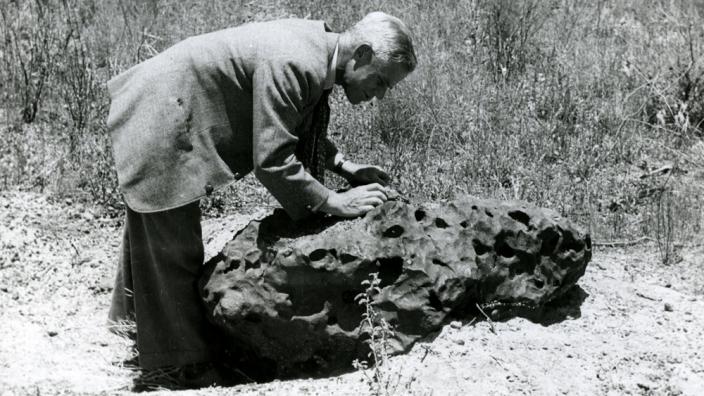 The earliest meteorites found in Western Australia were a number of irons, the first of which was discovered on 5th January, 1884 east of the settlement of York, a small town 80 km east of Perth.
These were named the 'Youndegin' meteorites after a police outpost 50 km NW of the find site. The first specimen, designated Youndegin I (11.7 kg), was found by a mounted policeman, Alfred Eaton. Later, Mr Eaton returned to search for additional specimens, three of which had been seen at the time of the initial discovery (designated Youndegin II-IV, 10.9 kg, 7.9 kg and 2.72 kg, respectively).
Over the following 45 years, numerous other masses of the same meteorite were recovered in the same general area. Evidently, one of these fragments was made into a horseshoe which hung in a blacksmith's workshop in York for many years.
In 1903, the largest mass of Youndegin yet discovered (2626 kg) was found SW of Pikaring Hill. The mass remained at the site of discovery until 1954 when it was rediscovered and named Quairading. Subsequently, the mass was presented to the Museum.
The Youndegin meteorite shower comprises at least fifteen masses with a total weight of more than 3.8 tonnes.

Meteorite Collection