Lorden's Patent Dryblower
Collection Highlights | Updated 4 years ago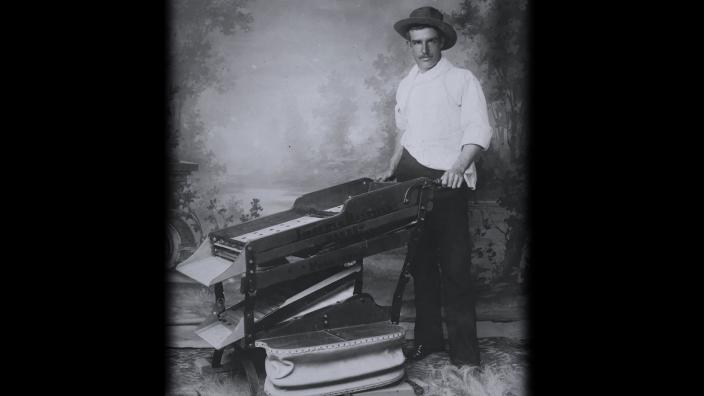 The Patent Cradle Dryblower, invented by Stephen Lorden and John Banfield in 1893 in Western Australia, revolutionised life for gold prospectors.
Three hundred were sold in the first year of production. After Banfield sold his share of the partnership in 1894, Lorden made improvements to the 1893 patent. The dry blowers were manufactured in Fremantle and agencies were established in all mining centres in Western Australia.
Unlike other goldfields, those in the desert regions of Western Australia had no water to separate the gold from other matter. This invention used a series of sieves to separate out the heavier gold together with a blast or current of air to blow away the foreign matter. This model has a pair of bellows to blast air and was constructed on the 'cradle principle' using adjustable screens moving in a rocking motion. The machine, designed to be carried on a horse or a camel, weighed 100 lbs.
Born on 1 May 1863 in Ballarat, Victoria, Stephen Lorden was the son of a miner and became a miner himself. He moved to Western Australia from Victoria in 1893 along with thousands of other miners seeking their fortunes on the newly discovered fields in the west.
Stephen Lorden donated this Dry Blower to the Western Australian Museum in 1897.
History Department collection
Main Exhibitions