Child's Fancy Dress
Collection Highlights | Updated 9 months ago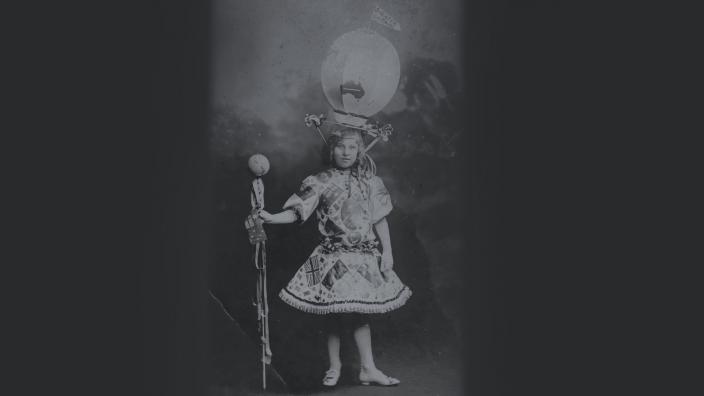 Worn by Miss Rita Lloyd aged nine years to the 'Lord Mayor's Juvenile Fancy Dress Ball' at Mansion House in Perth on 8 January 1909.
Miss Lloyd was impersonating 'Greater Britain'. A white silk bodice and skirt forms a background for the brightly coloured flags and badges of the different possessions of the British Empire in the predominant colour scheme of red, white and blue.
Also depicted are portraits of twenty governors or premiers of the 'Kings Dominions Beyond the Seas' including Sir John Anderson KCMG and His Majesty 'taking place of honour over the little lady's heart'.
'Miss Greater Britain' attracted the greatest attention at the Ball and 'appeared duly sensibly of the dignity and responsibility of representing those great and growing sections of our vast Empire . . . and in which is comprised so much of the future hope and destiny of Britain'.
Not all parts of the original outfit have survived, including: an 'Empire' staff with red, white and blue streamers attached and surmounted by a small globe of the world; a large globe of the world in red, white and blue formed an 'effective crown to the impersonation'; and white kid shoes 'decorated in harmony with the dress'.
The dress was gifted to the Museum by Jennifer Collins, grand-daughter of Rita Lloyd, in 1987.
History Department collection