Necklace, 1857
Collection Highlights | Updated 4 years ago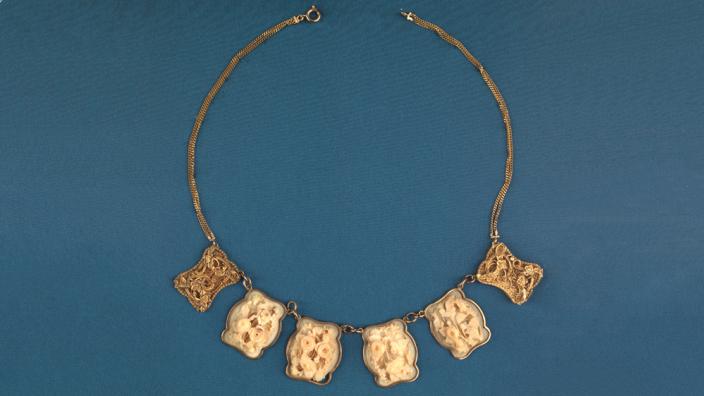 This picture shows a gold and ivory necklace given by the pirate Bully Hayes to his fiancée Miss Scott, the Fremantle Harbour Master's daughter, in 1857.
Hayes arrived in the Swan River colony early in 1857 as captain of the C.W. Bradley Junior which was full of stolen cargo from Batavia.
Hayes managed to ingratiate himself with the elite in Perth and Fremantle society who were unaware of his dubious past. He was soon betrothed to Miss Scott. He converted his cargo carrying barque to a passenger ship and began transporting emigrants from Fremantle to Adelaide where he met and wooed a young widow, Amelia Littleton.
By the time of his return to Fremantle in May, news of the captain's flight from Batavia had arrived in the colony. He managed to gain permission to transport yet another shipload of emigrants but on berthing in Adelaide his vessel was seized, auctioned to pay debt, and Hayes forsook his Fremantle fiancé to marry Amelia.
For the next twenty years Bully Hayes followed a life of dishonesty, bigamy and blackbirding until his murder at sea by Dutch Pete aboard the Lotus on 31 March 1877.
Miss Scott's keepsake was passed on through family generations before being gifted to the Western Australian Museum in 1990.
The necklace appears to have been formed from two separate necklaces, one of carved ivory, the other gold. The original was possibly altered in the 1880s, influenced by the Aesthetic Movement.
History Department collection