SS Perth Steam Engine and Auxiliaries
Collection Highlights | Updated 4 years ago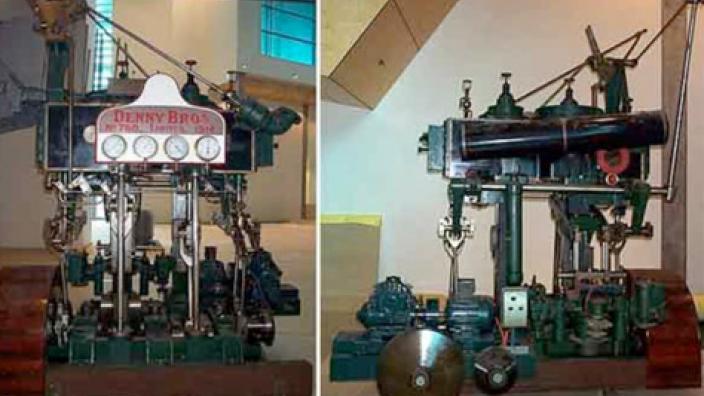 The SS Perth's main engine was manufactured in 1914 by Baxter & McKie of Glasgow. It is a steam compound-reversing engine that was used continuously until 1970 when the steam-condensing engine was replaced with an English electric diesel engine. The old steam engine was left aboard until 1987 when the superstructure and engine were removed.
The term 'compound' refers to an engine with more than one cylinder, wherein the steam is expanded in successive stages to maximise the energy of the steam. The Perth engine has two cylinders where steam is admitted into the smaller cylinder (high pressure cylinder) and exhausted into the larger cylinder (low pressure cylinder) where further expansion takes place before the steam exhausts.
The boilers were also built in Glasgow by McKie & Baxter. Each boiler returned 18ph at 120lbs per square inch. The boilers (manufacture nos: 1618 and 1619) were of the cylindrical multitubular type built of steel with the smoke tubes (or stacks) built of iron. Each boiler had a diameter of 6 feet 9 inches and stood 8 feet 6 inches high. The exterior diameter of the furnaces was 3 feet. The boilers and furnace were removed from the SS Perth to make room for the diesel engine and were discarded.
Coal was burnt in the furnace of the boiler to provide the energy (heat) to turn the fresh water into steam. This engine was supplied with two return-tube single furnace marine boilers.
Inside the boiler water is pumped into tubes which are heated by the furnace. The heat turns the water into steam which is directed into the cylinders where the steam provides the pressure to drive the pistons.
Marine engine, science and technology collection
Swan River Gallery