Xantho
Collection Highlights | Updated 2 years ago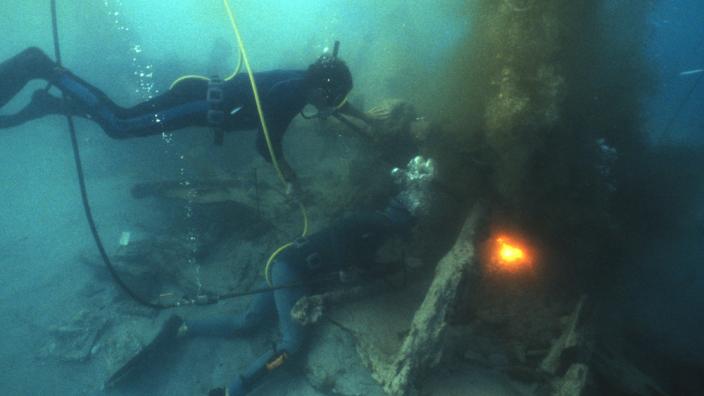 SS Xantho was an iron-hulled paddle steamer built in 1848 for use in Scottish waters. In 1871 it was refitted with screw propulsion and was then purchased by Charles Broadhurst for use as transport in the north-west Australian pearling industry.
Broadhurst also intended to use the vessel as a 'tramp steamer' picking up 'Malay' labourers for the pearling industry, passengers and cargoes on its voyages from Fremantle to Batavia via intervening ports and pearling havens.
Overloaded with lead ore and worn out, in November 1872, Xantho sank at Port Gregory on the mid Western Australian coast.
In 1979, an iron wreck at Port Gregory was located, which was revealed to be the SS Xantho and in 1983 the site was classified as a new type of underwater site, and conservators and biologists from the Western Australian Museum were invited to join the archaeologists in the investigation ab initio.
This was the first full pre-disturbance study of any wreck's biological and electrochemical state, providing concrete insights into the wreck, its status and predicted sea life if left undisturbed on the sea bed.
The underwater corrosion study showed that the engine, which was found to be intact, had a limited life on the sea bed.
The inspection also revealed that it was engineered not as expected, with a new condensing, two-cylinder compound engine, but with a ten-year-old, 60 hp, noncondensing, double-acting, double-trunk engine, exhausting to the atmosphere.
Subsequent research showed that the ageing SS Xantho was sold to a Glasgow scrap metal merchant Robert Stewart who, in 1871, had replaced the paddle machinery with a second-hand, ex-RN screw engine, new boilers and pumps, and offered the revamped hybrid lot for sale. It appeared that Stewart had perhaps been a shady or dishonest dealer.
The excavation of the stern section of the wreck, which was completed in 1984, revealed the unit to be the first mass-produced, first high pressure and first high revolution marine engine.
The treatment and 'excavation' of the engine began in a conservation laboratory soon after it was raised in 1985, and was completed a decade later with the opening up of the last of the internal spaces and the freeing of all working parts.
Even in the disassembly of the engine in the conservation laboratory, where over 2,000 kg of concretions were removed, evidence was discovered of the way Charles Broadhurst, the owner, operated the ship. Of additional importance, all the threads on the engine were of the British Standard Whitworth type.
The engine has been conserved and rebuilt in the exhibition gallery, where the entire Xantho/Broadhurst programme is presented to the public as a 'work-in-progress'.
For more information about Xantho and the Broadhurst family, view the Broadhurst website.
Maritime shipwrecks
Xantho Gallery