Moya Smith
Head of Department, Anthropology & Archaeology
Anthropology and Archaeology
BA Hons, Dip Ed, PhD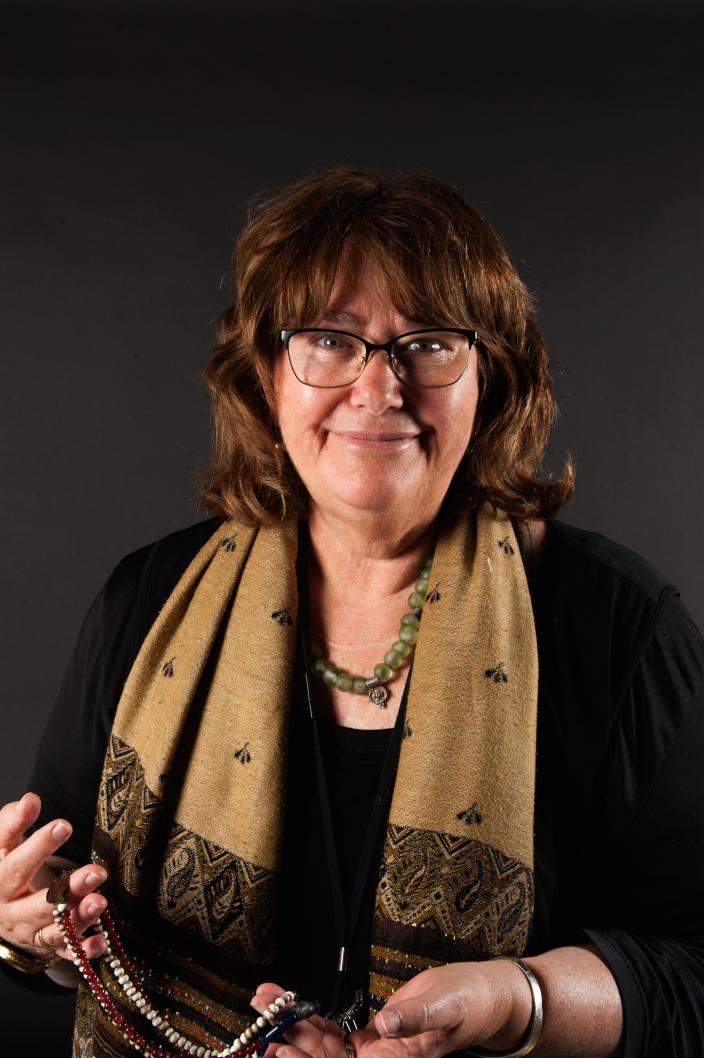 Contact
(08) 9212 3722
moya.smith@museum.wa.gov.au
---
Research
Research focus has included pre-European Archaeology of Aboriginal sites in the South West of WA, and ethno-archaeological research with west Kimberley Aboriginal communities of Dampierland Peninsula. The Dampierland work explored traditional resource use, including plant use and maritime resource use. Currently I am revisiting the Kimberley and Desert ethnobotanical collections and also the evidence for the use of Xanthorrhoea resins in the south-west.
Partner investigator on ARC Linkage grant with Chief Investigators Sue O'Connor from ANU and Jane Balme from UWA, examining 'the Lifeways of the First Australians'. The department has provided collection access for project post-graduates. I have worked with local Kimberley Aboriginal people to determine how they wish discoveries from this research to be represented in the Museum.
One of the co-ordinators of WAMCAES, the Museum's Centre for Ancient Egyptian Studies. This group links with Macquarie University to bring visiting Egyptologists to Perth and publishes an annual newsletter/journal.
Collections:
Oversees management of the ancient world elements of the World Cultures collections, and photographic collections and participates in curation of the World Cultures, Aboriginal Cultures and Archaeology collections.
Exhibitions and Public Programs
Curator of long term WA Museum exhibitions including KattaDjinoong – First Peoples of Western Australia; developed the indigenous content for permanent exhibitions at the Museum's branches in Geraldton and Albany. Short term exhibitions in Perth include: Wandjinas- Bringer of Rain. Curated a range of temporary and travelling exhibitions including Extraordinary Stories – Commonwealth Objects from the British Museum; Perpetual Green Scenes; the Charm of Zhejiang Celadon [ceramics from Beijing], Secrets of the Afterlife – Magic, Mummies & Immortality in Ancient Egypt, a British Museum touring exhibition. Local curator for Afghanistan: Hidden Treasures from the National Museum, Kabul.
Present guided tours of Katta Djinoong, of collection areas, and of touring exhibitions e.g. Afghanistan: Hidden Treasures.
Lectures/conference papers include:
Kimberley traditional watercraft and fishing technologies, Fremantle, Australian Historic Vessels conference (2013),
Traditional Aboriginal watercraft in the WA Museum collections at NAWI conference in Sydney (2012); and
Kimberley Collector – Father Nicholas Emo for 'in the Wild West' series 2 (2011).
Selected Publications
2011 Moya Smith. Moving on: an archaeological record of mobility in the Esperance area of southern Western Australia. Pp.16-29, in Caroline Bird & R. Esmée Webb (eds) 'Fire and Hearth' Forty Years On: Essays in Honour of Sylvia J. Hallam. Records of the Western Australian Museum, Supplement 79.
2006 Entwined Histories: Fibre Works from the Western Australian Museum. pp 30-35, in Cultural Strands, Ed. Carly Davenport Acker. FORM Contemporary Craft and Design, Perth, WA
2014-2002 co-editor of 10 volumes of WAMCAES NEWS the journal of the WA Museum Centre for Ancient Egyptian Studies [available from the WAM Bookshop]